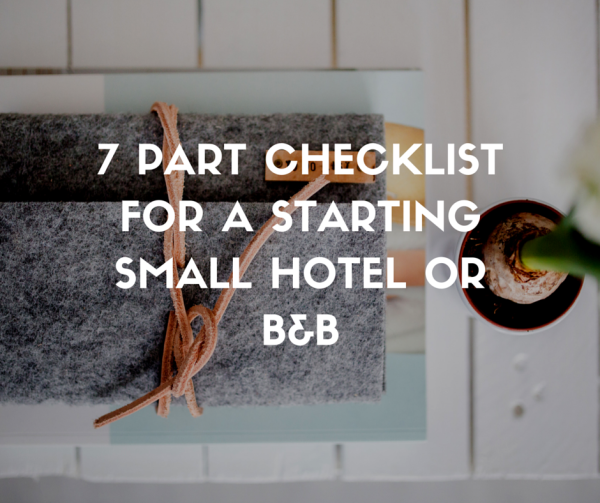 The source of inspiration for this article is something that Elena and Dom from beautiful Birmingham Manor said, which is that they never realized when they started how much work and how much information you need. That is why I thought of making a checklist to help people who are thinking of starting a B&B business or those who already have one but don't quite know what's not working.
1. Build a social media presence
Start with the ever so popular Facebook page, Twitter or Pinterest to other more niche sites that are more popular in your area. You should keep in mind that these sites are there for you to reach out and be reached by potential or loyal customers. So make it easy for them to contact you by filling in your email address, website address and phone number. Also remember to check them regularly to make sure you are quick to reply.
After you've built them and presented yourself through text and photos, it's time to post unique and relevant information, don't spam your page with useless articles though. Some examples of relevant things: special rates and offers, tourist events in your area, milestones or stories about satisfied customers.
2. Join a community
There are a few nice Facebook groups that are very helpful and active where people post their problems and others try and help out. Bed and Breakfast Owners & Innkeepers is a great example. It's a small group where only authenticated small hotel owners get access to so you won't get spammed. Another helpful public group is Beautiful Bed and Breakfasts. They are both properly moderated so you can expect a nice experience.
There are also places outside Facebook, like: InnSpiring, which is a forum style website where you can search for topics other people wrote and find answers to your questions or if you can't find them just post them yourself.
Other, more formal options are business associations: BandB Association or Professional Association of Innkeepers International. They can offer assistance and information to members, organise events and can help you promote yourself.
3. Get a website up and running
If you have your own website people can book rooms directly from you and not through online travel agencies. Sure OTAs are nice for exposure (because most tourists go there to book a room) but they charge a hefty sum for their services (between 10% and 20% for every booking). It is then a good idea to give your clients a place where they can reach you directly. This way they get a better price and you don't have to raise your price to compensate for the OTAs' commission.
You can have a more detailed description of your business than on Facebook or OTAs. You can put detailed photos that show off your beautiful home or maybe even a video tour of the place. The more visual aid the better… would you go to a place that has very few and low quality photos?
Actually the more original text you put in the better it is for your SEO. Since we mentioned SEO, which stands for Search Engine Optimization, make sure to either do some tinkering yourself by checking on-line guides or have someone do it for you. You don't have to spend a fortune on it but it does help if your website is properly indexed, is mobile-friendly and other basic SEO actions.
SEO is important because it makes it so your listing is positioned higher on the Google search result, so tourists that don't use OTAs can find you easier.
4. Set up profiles on popular sites where tourist look for accommodations
Although people have been having second guesses about big operators like Booking, TripAdvisor or Expedia, they are good place for new small businesses to start.
As I said before a contract with an OTA can be costly and that is why you shouldn't make them your only source of bookings but rather a means to fill up a few vacant rooms. Most of your bookings should come from your website.
Where possible place a link to your website so people can book directly with you. If you do this though make sure that the booking system you have on your site can handle instant booking. Although most big OTAs don't allow you to post your website for free because this way they don't get any commissions.
Make sure you manage your rating and reviews. Address negative review with calm and respect and thank people for positive ones. Encourage people to leave comments and reviews on these websites. Constructive comments will give you a good reputation.
5. Have a reliable payment processor
These are two trending ones that small businesses are using: Square and Stripe. They are both great options for small business because they don't charge monthly subscriptions just a flat per transaction cost: 2.75% for the former and 2.9% + .30 cents for the latter. Square is the more complete options since it offers physical options for credit card payment.
6. Keep a record of your activities
This information will help you in the long run to make informed decisions for the future of your business. For example, knowing which months are the busiest and slowest, where do your guests come from i.e. from your website, OTAs or social media. This data can help you decide where to focus your resources to get the most out of them.
7. Be outgoing
Maybe one of the most important point on this checklist is that you have to be a people person. In the case of small hotels, b&bs and inns your experience with customers will be very up close and personal so despite being exhausted after cleaning up after the last guest you will have to greet your new guest with enthusiasm and a smile on your face.
They will expect you to make conversation with them, tell them what are some of the local attractions, bug you for a lot of small details, tell them the WiFi password, show them around, tell the story of how it all started… anyway you get the picture.
What other things do you think new owners should take into account?

Lorin is Inbound Marketer at HoteloPro, online hotel management system trusted by small hotels and B&Bs from over 15 countries.